When a major disaster strikes, people want to help.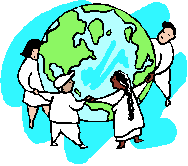 When that disaster occurs in another Country, providing assistance becomes more challenging. By following International guidelines for providing help, you can assist the victims of disaster without hindering the response of the agencies involved.
How to Help: Monetary Contributions to Established Relief Agencies Are Always the Most Useful Response to Disasters.
In general, the same recommendations for disasters in the United States applies to International Disasters. Give generously to those agencies providing assistance to the disaster victims in the Country impacted. Money helps by allowing the agencies to provide the needed assistance without the difficulties in shipping donated goods from the United States. By following the guidelines for donations and volunteering, you can make a difference.
Current International Disasters
Latest International Disaster News
Office of U.S. Foreign Disaster Assistance