Home / Hazards / Hurricanes / Storm Data / Hurricane Links / Storm Names
Hazards - Hurricane / Tropical Storms
Daily Tropical Weather Outlook
Issue 4 times daily by the National Hurricane Center

Active Tropical Systems
Atlantic Ocean, Caribbean Sea, Gulf of Mexico, and the Eastern Pacific out to 140°W

If you live in an area threaten by storm surge, one of the most important decisions you will have to make is "Should I Evacuate?"
You should be able to answer the following three questions before a hurricane threatens your community
What are your community's Hurricane Hazards?

Storm Surge

Hurricane Force winds

Heavy Rain and Flooding

Tornadoes

Which ones affect your family, home, and/or business, ?

What actions should you take to be prepared?

Family Disaster Plan, Disaster Supply Kit, Secure your home, Have a place to go, and Stay Aware
If you are asked to evacuate, you should do so without delay. But unless you live in a coastal or low-lying area, an area that floods frequently, or in manufactured housing, it is unlikely that emergency managers will ask you to evacuate. That means that it is important for you and your family to HAVE A PLAN that makes you as safe as possible in your home.
Storm Coordination Procedures for Emergency Managers
National Hurricane Preparedness Sites
Photo Collections

National Forecast Centers
GOES Hurricane Sector
NATIONAL HURRICANE
SURVIVAL INITIATIVE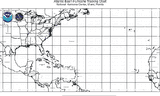 Atlantic tracking chart
PDF 721K